Traditional Greek & English Dishes
Join our mailing list to enter our monthly free meal giveaway!

Welcome to Grecian Taverna
The Grecian Taverna has been serving exceptional Greek dishes for over 35 years. Based in Frankfort Gate, our fun, lively restaurant is not just about the extraordinary food, it's also the unforgettable experience.
We source many of our ingredients locally and pride ourselves in our locally caught fish speciality dishes. We use the highest quality ingredients at all times, ensuring our food is of an incredibly high standard whilst keeping a traditional authentic taste
£18.95 per person for 2 courses
or £22.95 for 3 course
Host your afternoon wedding reception for up to 70 guests.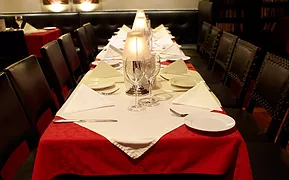 Diners can choose from a range of traditional dishes, and accompany them with a selection of our Greek wines. The less adventurous will be pleased to see the staple dishes of any good restaurant and a selection of wines and champagnes more familiar to British menus.
See What they are saying about us

Alan Cartwright
Genuinely I love a good complaint review and this restaurant has me at a loss. The staff were timely, precise and entertaining. The food was perfection although they have no idea of portion control, I can barely move far to much to eat. The environment was warm and comfortable and as relaxed as your own home. I live 200 miles away and I shall be coming back.
Rachel Jones
Wonderful time had at the Grecian Taverna! Food was delicious and the waitress (Sarah) was lovely - really welcoming and attentive. I felt really at ease. We had a lovely time and will definitely be revisiting!

Sarah Mather-Pearse
I attended the Trixi Lix drag night.....laughed so hard. The food was plentiful and totally delicious. The portions were so generous I didn't even dare order dessert, which was included. I couldn't fault the staff, especially as the venue was rammed. I would definitely recommend and will certainly be going back.

Adrian Curly Watts
Fantastic food, great drink and fabulous staff. Awesome evening thank you.
Giannis Kouvarou
Amazing food and the owner and the staff are very nice
Paul Sleep
Great staff, great fun, amazing food! Lovely evening as always

Reg Newton
Meals and service very good The Kleftikon is excellent We'll go back again

Cody Williams
Lovely food and the staff was lovely kept to social distancing measures the food was lovely 🙂 would highly recommend the place:)

Neil forde
Brilliant place to dine.This establishment has been serving good experiences many years.Long may it continue.

Mary-Ann Moseley
we had a delicious early supper before the theatre this evening. v friendly service, authentic Greek food - yummy! thanks
This error message is only visible to WordPress admins
Error: Connected account for the user thegreciantaverna does not have permission to use this feed type.
Don't Miss Out! Call to Book